Les Roches Rouges,


Saint-Raphaël
Located on the Mediterranean coast with a view of the famous île d'Or, the hotel invites you for a moment of relaxation and escape in a peaceful setting.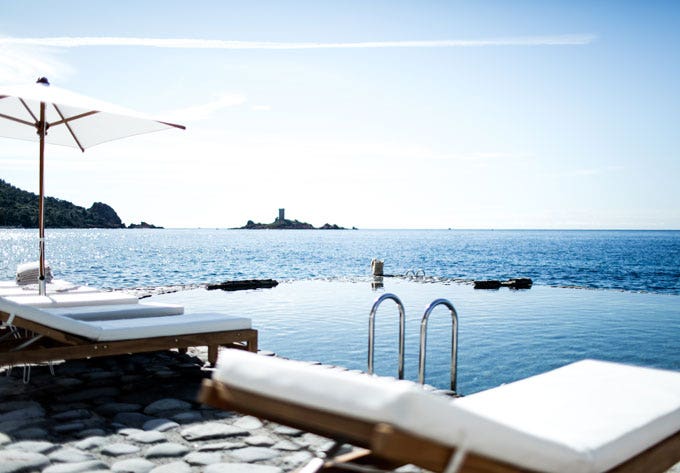 Holidays in CinemaScope
As Beaumier group's leading summer destination, this hotel was created to offer a relaxing atmosphere thanks to the use of pure and simple lines in the decoration, inspired by the 50s.
Located in Saint Raphaël on the road to Cap Estérel, Hotel Les Roches Rouges, or "Red Rock" in English, is aptly named. This jutting land on the Côte d'Azur offers visitors a wild landscape and a tremendous purple mountain range to marvel at.
The establishment, which breathtakingly plunges over the sea, offers its guests unique experiences thanks to its location and view of the famous île d'Or, as well as its two swimming pools: a natural one cut into the rock, allowing you to swim in natural seawater, as well as a swimming corridor for the more athletic. In either case, guests are invited to enjoy the landscape as they relax on the sunloungers from the IBIZA collection. And, thanks to the KOTO parasols, everyone is protected from the sun and coastal heat. These two collections are a perfect combination for this setting. Their structure in solid wood complements the coastal rocks and does not take away from the landscape's natural feel. Make way for relaxation and well-being...
Photos credit: Benoit LINERO