L'Effet Mer,


La Grande-Motte
Located in the French commune of La Grande-Motte, this sunny location offers a relaxing change of scenery combined with an exotic Balinese feel!
"A beautiful location with tasty food"
For over 20 years, the Effet Mer has carefully designed its setting to offer guests an unforgettable journey. As a bar, restaurant and beach, this trendy venue offers, above all, a break, an escape, a temporary getaway.
Managers Marion Bellandi and Aymeric Lotto see design as a means to creating a unique visual identity. The long-term leasing offer allows them to regularly renew their furniture and to benefit from the latest products and colours.
Aymeric Lotto adds: "We were already Vlaemynck customers. When the brand was acquired by Fermob ten years ago, we loved the product catalogue and wanted to enhance our decoration with their lights."
The restaurant is therefore equipped with solid teak and aluminium tables and chairs from Vlaemynck's PILOTIS collection, whereas the beach area is fitted with PLAGE D180 parasols, perfectly in tune with our chic, baroque setting, and ideal for resting your feet in the sand.
The bustling and festive bar offers tasty and refreshing cocktails, passionately concocted by the baristas.
"We needed a solution to light up our evenings," indicates Aymeric Lotto. "Fermob products are intuitive and precisely met our needs. They are stylish, practical and high quality".
The MOOON! H134 floor lamps in Cactus seamlessly blend with our exotic, boho setting, and the APLÔ H24 lamps create a cosy atmosphere on our terrace. "It's our favourite lamp – it is easy to charge and use, and the Cactus colour [which we chose from a selection of eight colours] complements our decoration. The various colour intensities allow us to adapt our setting according to our needs. The LUDO connected switch also helps us save a lot of time, allowing us to simultaneously turn on several lamps!," explains Aymeric Lotto.
A beautiful location with tasty food – you won't want to miss it the next time you're on holidays in the South of France.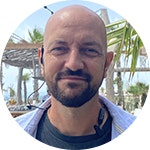 "Our customers noticed our new lamps and we've only received positive feedback. They find them original and very stylish."
Aymeric LOTTO, Manager at Effet Mer.
Products used for this project: