Welcome to Le Questel, a welcoming and tasty "dining room" brasserie in Nîmes!
"A true institution"
Le Questel, a bistro-brasserie at the heart of Nîmes, has built a formidable reputation.
Its success lies in the masterful balance between tasty cuisine and a warm welcome, where sharing is key. Its owner, Jimmy Vialle, pays great attention to detail. At Le Questel, everything is of French origin – even the furniture!
The establishment shares some of Fermob's strongest values: pleasure, simplicity, team spirit, quality and respect for products and customers. Having worked with the establishment for many years, Valérie Imart, Contract Project Manager, explains that "Le Questel is a true institution".
Fermob won over Jimmy Vialle more than ten years ago thanks to its know-how and stylish design, and the restaurant has remained loyal to the brand ever since. Entirely fitted with BISTRO tables and LUXEMBOURG seats (two of our historic collections), the restaurant's terrace is brimming with elegance thanks to the Liquorice tone that was selected.
As additional lighting was required, the establishment recently opted for the latest trendy solutions, allowing it to create a welcoming and harmonious setting for the summer season. Embodying all the charm of a bistro at lunchtime, the restaurant is transformed at night: "all dishes are shared for dinner". As such, the Cactus-coloured BALAD H12 lamps, H134 floor lamps and H41 table lamps from the MOOON! collection were naturally selected to enhance the bustling terrace.
In April 2022, two of the QUESTEL Brasserie's team members obtained the French "Maître Restaurateur" title: Jimmy Vialle and Pierre Verot, the Head Chef, were both awarded this distinction.
Congratulations!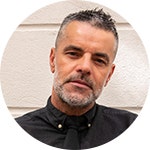 "I love how chic and sturdy Fermob products are. The products are beautiful, solid and monochrome – precisely the aesthetic that I want for my brasserie. The products are also instantly recognisable: many customers ask us about the lamps and recognise the brand. These lamps are eye-catching and bring our terrace to life."
Jimmy VIALLE, owner of Le Questel.
Products used for this project: