Le Vieux Castillon,


Castillon du Gard
A hotel with Provençal charm at the heart of a medieval village, offering elegance, serenity and a culinary experience.
Welcome to Castillon-du-Gard, a gateway to history!
"A gem in the north of the Gard department of France"
A loyal Vlaemynck customer since 2019, Le Vieux Castillon is an exceptional hotel overlooking the Pont du Gard. In addition to its 34 rooms and suites linked by medieval patios and suspended bridges, its outdoor areas are havens of tranquillity and relaxation.
The hotel's manager, Jérôme Lheriteau, is a loyal supporter of Vlaemynck furniture, which he describes as "contemporary, attractive and easy to use and handle".
The GORDES collection for the terrace, as well as the IBIZA sunloungers and KOTO parasols for the poolside, were recommended by the Contract team to complement the aesthetic and contemporary softness of this establishment, which is paced by the gentle rhythm of the cicadas.
This summer, Fermob lights brought the finishing touch to the hotel's outdoor lounge areas, which overlook the Alpilles mountain range.
Thanks to the HOOPIK string lights, the bar now benefits from a festive touch. And, to bring the lounge areas to life, the APLO table lamps and BALAD portable lamps make the spaces even cosier, thanks to their functional and decorative lighting.
While all the ranges complement each other and are adapted to a given space, Jérôme Lheriteau reveals a slight preference for the MOOON! floor lamps, used to mark out and highlight the terrace, its old local stonework and its different levels.
"The switch is very practical and allows us to save time," explains Jérôme Lheriteau.
During the installation of the lights, the LUDO connected switch (which was introduced by Fermob in 2022) was configured to link the lights. The APLO, MOOON! and HOOPIK lights are equipped with Bluetooth MESH 4 technology, making it possible to manage lighting scenarios between lamps and to control them remotely with a single click via the switch.
Le Vieux Castillon "is a gem in the north of the Gard department of France," says Valérie Imart, Contract Project Manager for Fermob & Vlaemynck.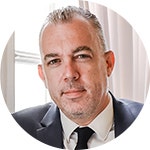 "[Most of] our guests are familiar with FERMOB products and really enjoy them."
Jérôme LHERITEAU, Manager of Vieux Castillon.
Le Vieux Castillon
10 Rue Turion Sabatier
30210 Castillon du Gard
Website
Photo credits: Le Vieux Castillon
Products used for this project: