Helping Orpi furnish its new head office.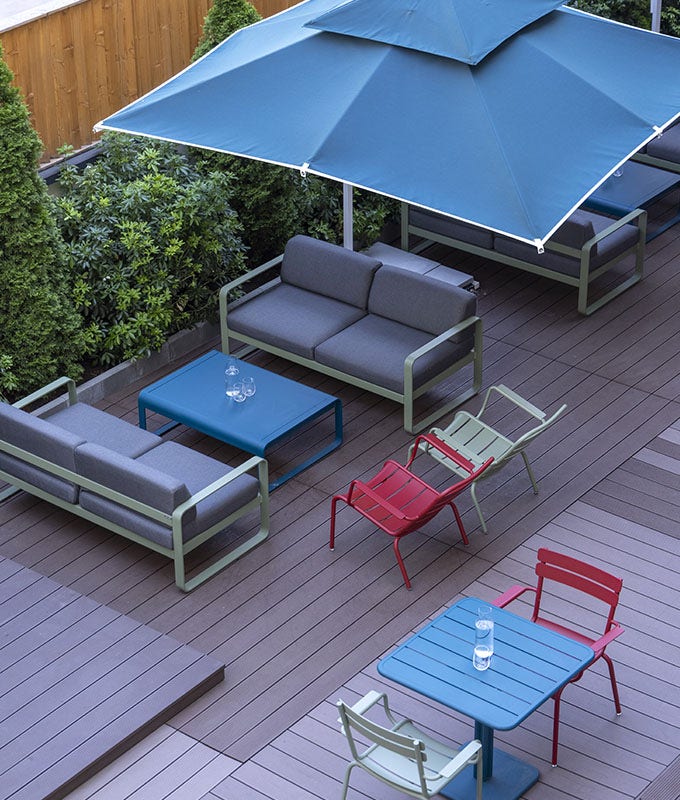 "A place for sharing and living"
In 2020, Orpi, a network of real estate agencies, chose to relocate its head office, kicking off an office renovation project in Clichy.
With five floors and 1,800 m² of office space, the building is designed to accommodate 90 full-time employees. It also welcomes, on a daily basis, a large number of staff from outside Paris for meetings and training.
The network hoped to transform its head office into a place for sharing and living. As such, Orpi's operations department turned to Fermob and came to the Paris Showroom to try out and select furniture, while benefiting from the guidance of our Contract team.
Our furniture is now used in the head office's outdoor dining space (some 60 seats), where the customer wanted a mix of heights. The LUXEMBOURG collection and its iconic chair, revamped by Frederic Sofia, are combined in a range of light, modular aluminium units: in a high version, dining version and low version.
As for its lounge area, the Orpi team went with large seats and low tables from the BELLEVIE collection, which has rounded edges. Designed by Pagnon et Pelhaître, the collection is highly modular and easy to move around, allowing for endless furnishing combinations.
To complete the layout, VLAEMYNCK shade solutions were selected for lively, well-shaded breaks. Ultimately, Orpi's furniture selection revolved around large, aesthetic and functional products. Despite their large size, the EASY OPEN parasols can be opened and shut single-handedly thanks to the ergonomic handle that activates the telescopic pole. The PAGODA offset parasols, which swivel 360 degrees, allow staff to adjust the shaded area at any time of day, and are ideal for working outdoors when the weather allows.
Thanks to a mix of Cactus, Chili and Acapulco Blue, the set creates a harmonious visual identity.
Products used for this project: