Outdoor Technical Fabric - Photo credit: Adrien DASTE
Outdoor Technical Fabric - Photo credit: Adrien DASTE
Metal, a formidable "material of ideas"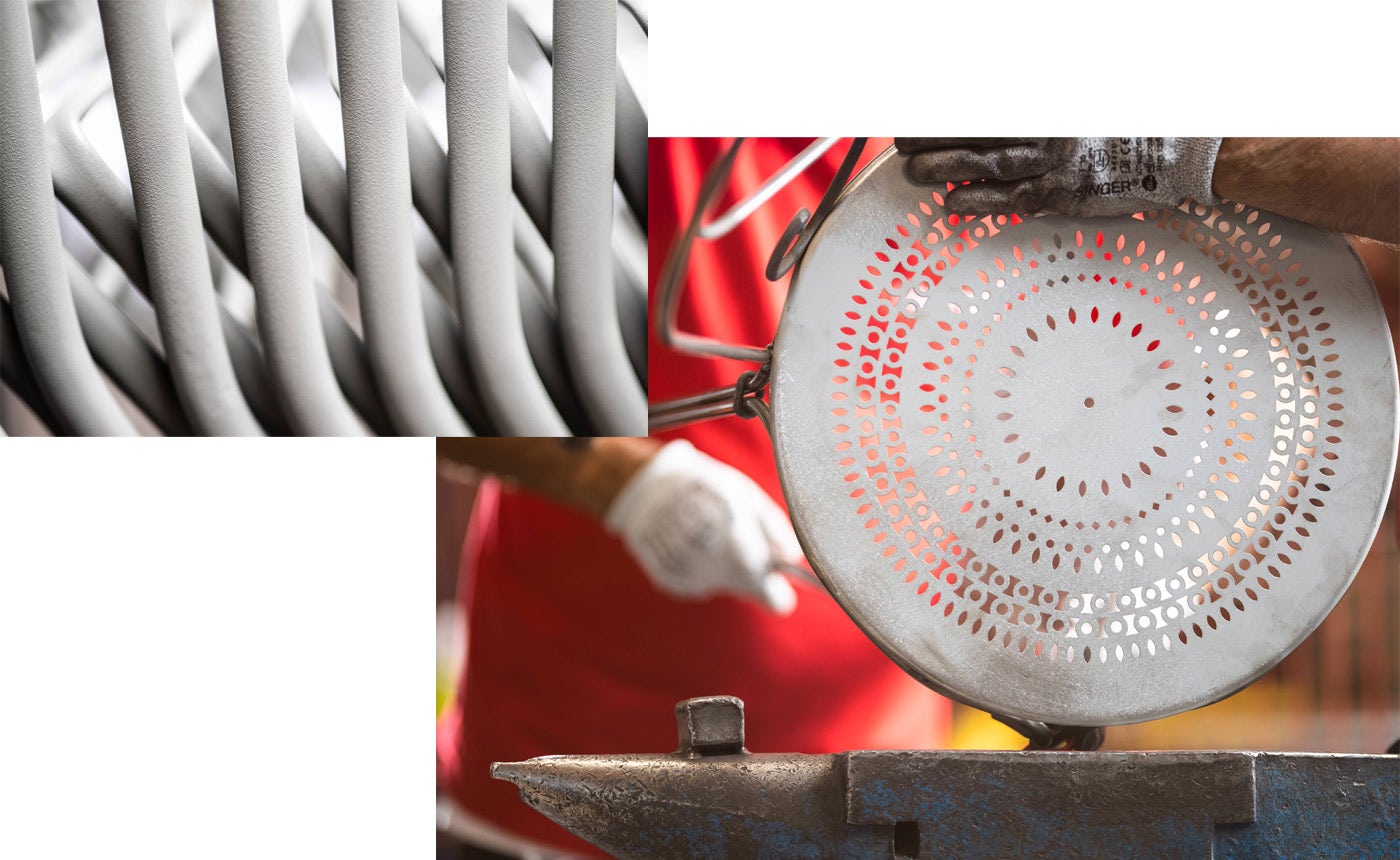 Fermob has chosen to make its furniture from metal (more than 98% recyclable), a formidable "material of ideas" - as described by Gustave Eiffel - due to its wide-range of uses. We use top-quality steel or aluminium.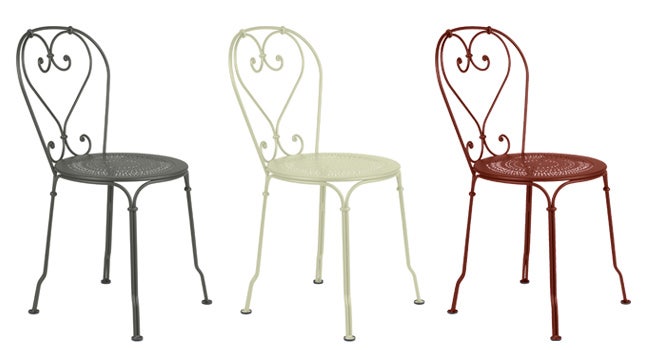 Steel
> Fermob's original field of expertise
> Stability and durability
> Allows for finer designs
Aluminium
> Malleable
> Lightweight
> Easy to weld
> Recommended for use by the sea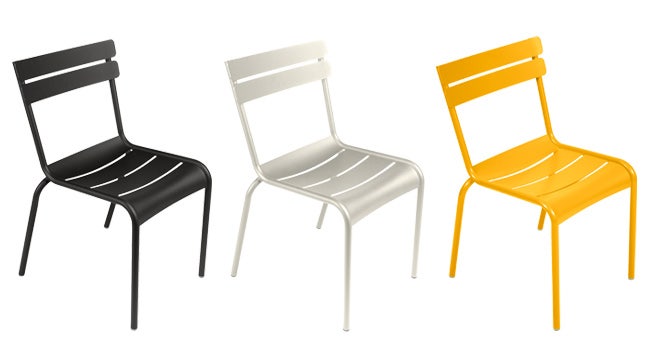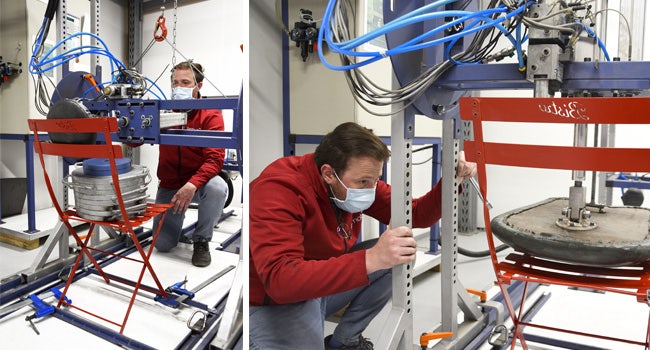 Fermob's quality laboratory
Anti-corrosion performance is carefully taken into account by Fermob's designers and technicians when creating a new product. It is therefore vital to create solutions to limit or remove areas that may be more sensitive to corrosion, as they are not protected and/or treated.
Fermob furniture undergoes intensive testing in the company's laboratories, in accordance with general safety standards (NF EN 581-1), stability standards (NF EN 1022), and resistance and durability standards for collective use (NF EN 581-2, NF EN 581-3).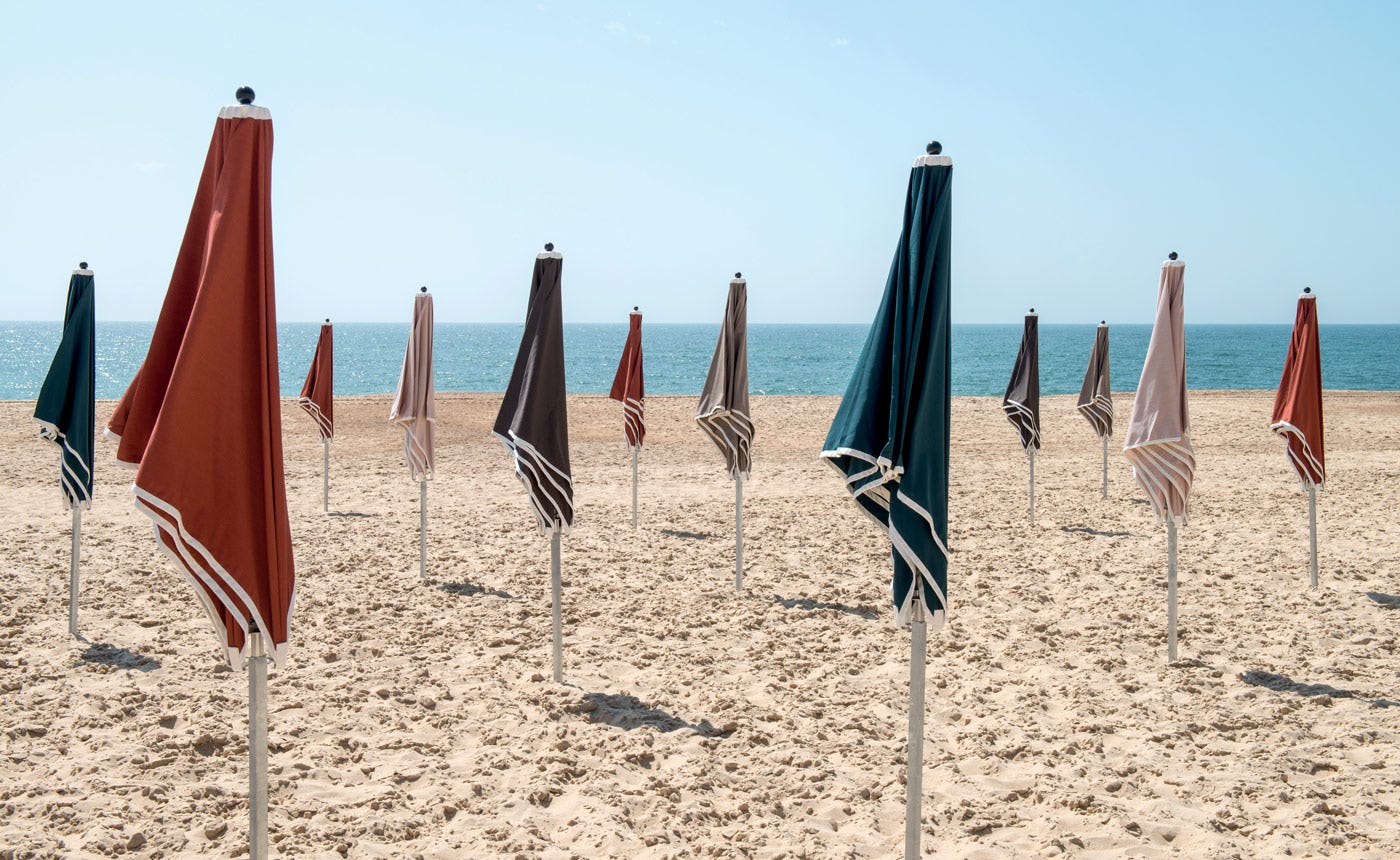 Metal can also be combined with other materials such as Outdoor Technical Fabric (polyester coated with PVC), solution-dyed acrylic fabric, thread (braided polymer), outdoor fabrics developed with the most rigorous and renowned suppliers on the market, as well as teak.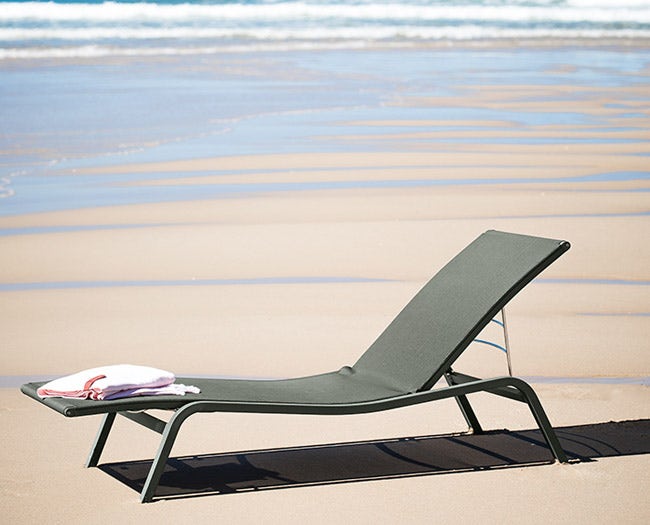 Outdoor Technical Fabric
The Outdoor Technical Fabric (OTF) on Fermob and Vlaemynck products is made from Batyline® by Serge Ferrari, a French company leading the international market. The fabric is composed of a 100% high-tenacity polyester thread coated in a solution-dyed PVC sheath which guarantees:
> A durable, tearproof product (able to withstand a load of 4 T/m²)
> A seat that does not stretch out (the fabric returns to its original shape after use)
> A design that lasts over time
Batyline® is the highest-performing outdoor fabric on the market. Named Stereo, this fabric is developed exclusively for Fermob. Batyline® offers many advantages for outdoor use:
> UV-resistant (colours do not fade over time)
> Stays cool
> Does not retain water
> Treated to resist stains and mould
> Hypo-allergenic
> Soft and comfortable seat that does not deform
> Easy to clean with soap and water.
Acrylic textile, solution-dyed, 100% outdoor
What makes a good outdoor textile?
A fabric that has the technical qualities to be outdoors on the long-term, without deteriorating (colours that resist UV rays, water-repellent, resistance to stains and mould, etc.) This fabric is also very easy to maintain (removable covers, machine-washable, etc.).
Cushioned furniture, the Shadoo Parasol and certain Fermob textile accessories use Sunbrella® fabrics by Dickson, a French manufacturer and leader of the international outdoor fabrics market. The same goes for the Rivage, Lodge and Gordes furniture collections, as well as most of the Vlaemynck parasols.
The brands select the highest-quality suppliers to meet the technical constraints required for extensive outdoor use. 100% acrylic and solution-dyed to the core of the fibre, Fermob and Vlaemynck fabrics offer unparalleled colour retention, with excellent UV and weather resistance. Their fluorocarbon treatment (which prevents all absorption of liquids) ensures the product fully repels water.
Fermob's expertise in teak
Nobility, character, authenticity, resistance. Our teak and solid wood items of furniture are of exceptional quality. Teak has a natural resistance to poor weather conditions.
The teak that we use has been and continues to be sourced from the same factory for the last 30 years, and is exclusively issued from legal tropical plantations, thus ensuring the sustainability of the species and the protection of the environment for responsible management and a guarantee of quality.
Fermob has sought out Vlaemynck's expertise in teak for over 30 years. Teak is an exceptionally high-quality wood: rot-proof, long-lasting, and resistant to insects and poor weather.
This ultimate outdoor wood does not require any maintenance to preserve its technical qualities: solidity, durability and ease of use.
The teak used by Fermob and Vlaemynck is natural, untreated and unoiled. As it naturally greys over a year, its patina enhances its authenticity and contemporary appeal. No special maintenance is required. As a C Grade wood, it preserves knots and other natural patterns for a naturally uneven look.
Teak showcases Fermob and Vlaemynck's work on the materials, giving the items of furniture a warm look and a comfortable feel.
Braided resin and Wicker weave, comfort and high resistance!
The braided fibre is solution-dyed for optimal colour resistance to UV rays, and can withstand all weather conditions. The thickness of the aluminium frame grants exceptional solidity the furniture. Fermob and Vlaemynck always adhere to the highest standards when developing their braided collections: use of quality materials and a design that guarantees solidity.
The seats from Fermob's Croisette and Sixties collections are made using braided threads on an aluminium frame. Extruded from resin (polymer), the threads are then hand-braided using an artisanal technique. Each product is therefore unique and requires between 8 and 19 hours of weaving.