Bellevie seats and tables, Bebop low tables, Balad lights, Inouï - Photos credit: Romain RICARD
Discover
the brand

Discover
the brand

Bellevie seats and tables, Bebop low tables, Balad lights, Inouï - Photos credit: Romain RICARD
You are unique. Your outdoor spaces are unique too!
Give life to a museum, a wide avenue or an office terrace. Adorn a hotel beach, a suite lounge area or a concept restaurant. With Fermob Contract, give your space an identity that matches your character – that extra touch that makes all the difference, and makes your location truly distinctive. We dress spaces of all shapes and sizes, no matter where in the world they are, from rooftops and pavements to the water's edge. The sky truly is the limit.
To create a unique setting that simply can't be found elsewhere, we create designs that are both pragmatic and pleasant…
With a wide range of options to choose from, all made in France, plus our expert advice, you'll find just the right solution to bring your ideas to life and add a touch of soul to your projects.
Your outdoor space makes that all-important first impression. So make sure it's bold, appealing, inviting and, above all else, unique!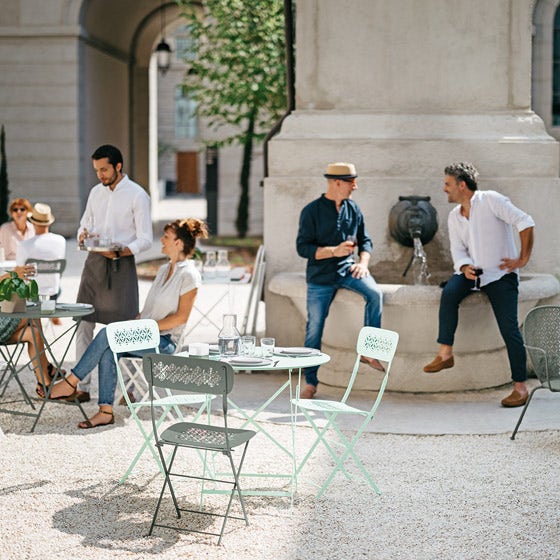 Lorette seats and Bistro tables - Photos credit: Stéphane RAMBAUD
The pleasure of hospitality
Choosing Fermob means choosing a terrace that's always welcoming. Being a great host is about making people want to stay a little longer – perhaps a lot longer – and leave with a firm vow to come back again. Put on a mouth-watering spread, go the extra mile on customer service (because the little things count), and ask your guests to sit back and relax. And all that becomes much easier when you've got inviting, welcoming furniture you can move around with ease.
"Is this seat free? Sure, be my guest!"
Talking, sharing and enjoying the great outdoors, always at one with nature. That's what Fermob's joie de vivre is all about: bringing happy moments to outdoor spaces. We've been doing that with the Jardin du Luxembourg chairs, those icons of French design that came out in the 1920s, and we're still doing it with the chairs in New York's Times Square.
We offer furniture that is adapted to all - no matter their age, personality or conversations, everyone is always welcome. Our products offer much more than just a place to sit: they are also catalysts for social links!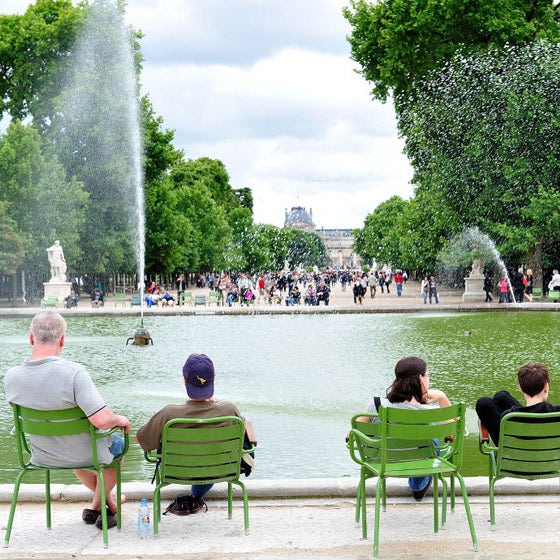 Photos credit: Véronique VEDRENNE
A steel know-how!
The Fermob factory in Thoissey France is a far cry from full automation (and proud of it!). Here, man and machine work together. This manufacturing model applies human expertise to industrial technology. The human touch is very important to us, and a source of great pride!
This harmony between man and machine is not only characteristic of our original site, but also of our two other production sites, both located in the Auvergne-Rhône-Alpes region. One specialises in textile production, and the other is a furniture manufacturer for local authorities; over the years, they have been added to the group, helping strengthen its local position.
Fermob, the highest metal know how and colours expertise
for outdoor spaces, giving a multitude of possibilities to make your terraces as unique as your are !