Gordes seats, modular table with Tetra base and marble-effect compact laminate table top - Photos credit: Nicolas MATHEUS
Discover
the brand

Discover
the brand

Gordes seats, modular table with Tetra base and marble-effect compact laminate table top - Photos credit: Nicolas MATHEUS
Outdoor spaces that reflect your nature
Vlaemynck furniture turns any outdoor space into a place where guests feel in their element – from lush green mountains and windswept landscapes, to the sun-baked Mediterranean coast.
Our aim - to create peaceful, harmonious spaces - guides everything we do. And design is our tool to make that happen.
From intimate gardens to the terraces of the finest hotels, our pieces become part of breathtaking landscapes and backdrops – places where nature and comfort are combined to achieve perfection.
Because Vlaemynck furniture isn't just furniture. It's a sensory experience that's as unique as your property - a setting where everything comes together to shape those unforgettable moments.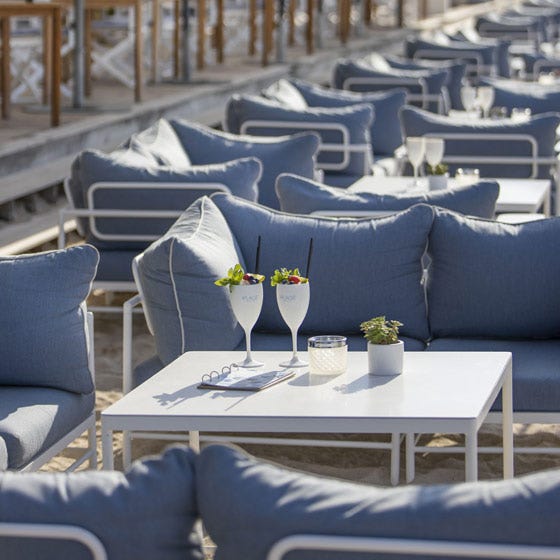 Grand Hyatt Le Martinez, Cannes (France) - Collection Rivage
Premium outdoor experiences for 50 years and counting
We harness our traditional, time-served knowhow in textile-making to develop products to impeccable quality standards.
Have you ever noticed how the comfort of a seat often comes from the quality of its cushion? Every detail matters!
At Vlaemynck, our know-how has been setting the gold standard in the French outdoor professional mark for half a century. We serve 15,000 hotel and restaurant customers. And more and more retail customers are joining them. Why? Because our products are elegant, stylish, premium quality, and incredibly easy to clean and repair.
These time-served qualities are what keep our customers coming back time and time again, including the finest hotels on the Cote d'Azur.
Exceptional know-how perpetuated by our people
We work with more than 250,000 square metres of fabric each year to produce tens of thousands of cushions and parasols. We also have rented stock amounting to an incredible 30,000 parasols and 60,000 covers - all adorning beaches along the Cote d'Azur.
Our 20 seamstresses put every ounce of their expertise to work, producing head-turning, design-inspired products for our professional customers in the hotel and restaurant industry, and adding discreet covered zips that make our covers ultra-protective and easier to fit and remove.
In addition to our partners' facilities, we have our own 3,000 sq m workshop on a site spanning some 18,000 sq m in Burgundy, which is where our sewing machine and tools make one part of the parasols and cushions.
And because we have our very own production facility and such special workshops, our Special department can make bespoke pieces in an endless array of colours.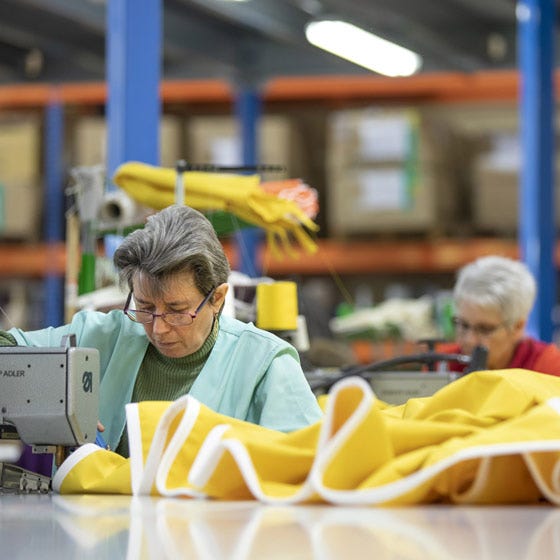 Vlaemynck, Charnay-lès-Mâcon (France) - Photos credit: Arnaud CHILDERIC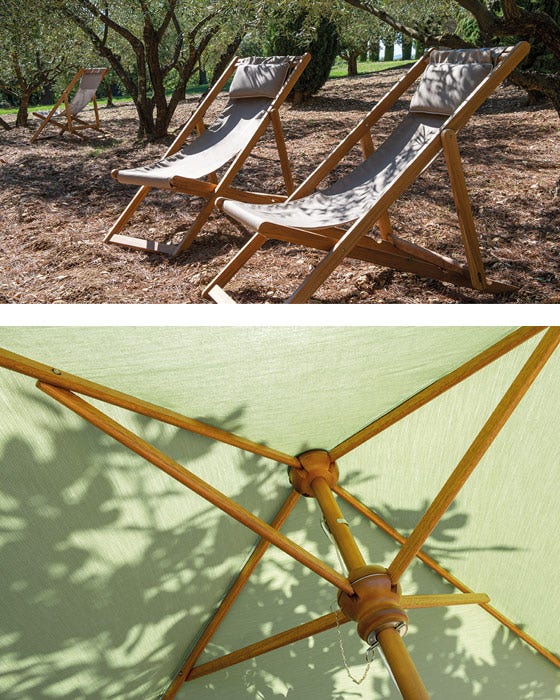 Ibiza seats, Koto parasol - Photos credit: Nicolas MATHEUS
Quality whatever the weather
As an outdoor textile specialist, Vlaemynck draws on every inch of its long-standing weaving expertise to select only the best fabrics. We hand-pick materials from renowned manufacturers according to three criteria: comfort, durability and visual appeal.
All our fabrics are solution-dyed for guaranteed resistance to UV rays and inclement weather, meaning they can withstand the test of time.
Our BATYLINE® fabrics undergo anti-fungal treatment to protect them against mould and keep them at their best for longer.
Our cushions, parasols and items of furniture are easy to care for, too - all it takes is a quick machine-wash or hosing-down with water.
Our solution-dyed 100% acrylic fabrics for parasols and cushions offer impeccable colour-fastness for outdoor use, as well as being hard-wearing and easy to clean. The fluorocarbon treatment prevents the absorption of liquids, stopping stains and grease penetrating the fabrics. All you have to do is choose your finish: plain weave, striped or facing effect.
BATYLINE® EDEN for furniture and cushions combines the technical qualities with softness to give unrivalled seating comfort and a pleasant silky feel.
BATYLINE® ISO for furniture is tearproof and exceptionally sturdy, while the regular weave creates a flexible, lightweight fabric that's always comfortable and stays cool even in the height of summer. Our detailed seam finishes and highfrequency welds mean our products are guaranteed to last, no matter what the weather.
Teak, the hallmark of Vlaemynck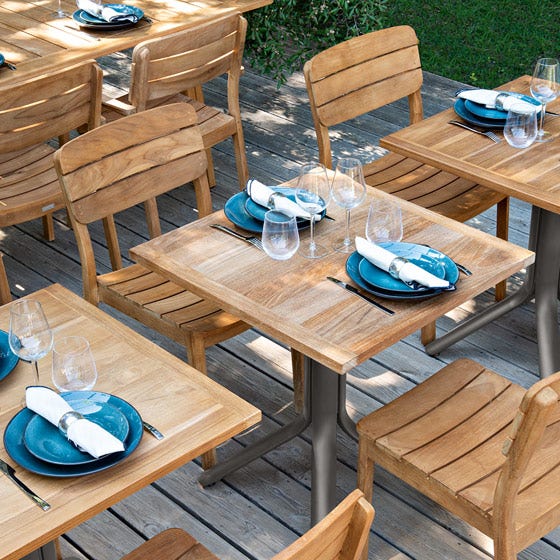 Lodge seats, modular tables: glued laminated teak table tops, Stello base -
Photos credit: Nicolas MATHEUS
The finest of materials
At Vlaemynck, we've developed multi-material expertise spanning extruded aluminium, galvanised steel, woven resin - and, of course, teak: a solid, exotic, naturally rotproof wood.
Used for several centuries to build boat decks, teak is eternally appealing with its high-quality finish, its delicate grain and its hardwearing nature, no matter what the weather.
It's an untreated, living material that gains character as it ages. We love its patina, which adds natural grey and brown tones to the wood, contributing to its authentic feel and contemporary strength.
Teak, always and forever
We were one of the first companies in France to offer teak furniture in addition to our outdoor fabric furniture. We've continued to work with the same production unit in Indonesia ever since. We've enjoyed a partnership for over 30 years, which has helped us to develop technical expertise and in-depth knowledge of the entire sector, including the advantages and the necessary precautions. The teak comes from plantations managed by the Indonesian government to guarantee high quality and responsible management.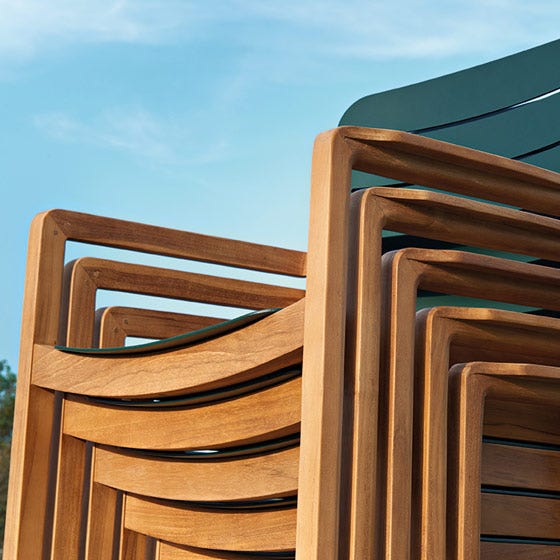 Lodge seats - Photos credit: Nicolas MATHEUS